Subscribe to the Jasmin newsletter
Receive our offers and horticultural capsules!
May 2023 - Part 2 (french only)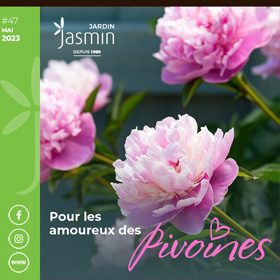 Pour les amoureux des pivoines
Les pivoines Itoh
Dehors les plantes d'intérieur
Nouveautés du côté des vivaces
Et pourquoi pas une boîte de légumes et fines herbes
Bestioles: Surveillance
Semis directs et plantation au jardin
Des légumes en abondance
Des fines herbes qui prennent toute la place
* This is a showcase catalog, it is not real time inventory. NO PURCHASE of plants online. ON-SITE PURCHASE only.